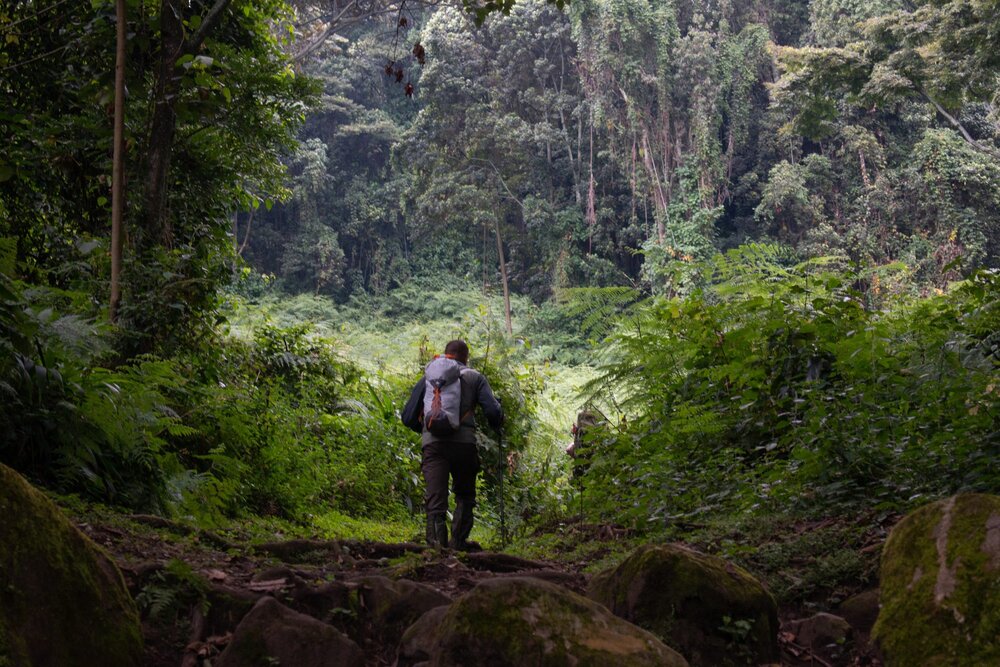 The transition from the civilised world to the dense untouched rain forest is immediate and dramatic. We're entering the Afro Montane Forest, a mountain zone teeming with wildlife. In the distance, we hear brawling chimpanzees while along the trail we look for chameleons, which with our untrained eyes, proves incredibly difficult. The trail is in excellent condition and we wonder why the Rwenzori trails have such a notorious reputation. It's an easy stroll, taking us just three hours to reach the brilliant Nyabitaba Hut at an altitude of 2660 metres. From the ridgeline where the hut sits, we see the tops of the spiky Portal Peaks rising above the cloud cover across the valley.
As we leave the hut, the trail disappears. What's left is a narrow stream bed with an extremely muddy bank, every step requires careful foot placement. That morning, our local guide Jethro claimed it would take us six hours to do the 8.5km to the Guy Yeoman Hut. That's an average walking speed of 1.5km/hr. It was hard to believe when we set out, but his estimation soon made sense as our legs are sucked down in the calve-deep bog.
Crucial kit advice was to do the trek in Wellington boots. An unusual choice of footwear on a multi-day trek in normal circumstances, but the Rwenzori's Central Circuit is no normal trek, in fact it's as challenging as trekking gets and makes the standard route on Kilimanjaro look like a walk in the park. Wellies are definitely no luxury item here and we're soon due a reminder why these mountains are called Rainmaker.
After ploughing through the mud for three hours we arrive at the base of a formidable barrier. The Kichuchu wall rises up almost vertically and there's no way around it. The trickiest sections are equipped with iron ladders, but we still have to scramble up and over slippery, steep, moss-covered slabs. A slip in the wrong place here would have dire consequences, but unscathed, the team reaches the upper Mubuku Valley and checks-in at the Guy Yeoman Hut on the banks of the Mubuku River.